Chafee Calls Station District, Airport Development a Priority
Warwick Beacon Online
November 3, 2011 By John Howell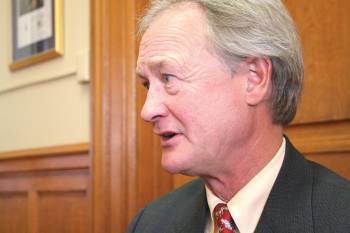 SEES POTENTIAL: Gov. Chafee has made development within the station district a priority of his administration.
Warwick, Green Airport and the station district is "more on the front burner of everybody," Governor Lincoln D. Chafee said Tuesday.
That hasn't been the case of prior administrations, but Chafee, as Warwick mayor and then as a U.S. Senator, played a key role envisioning and then gaining federal financing for the $267 million InterLink that now connects the airport and the railroad with a skywalk.
In an interview, Chafee expressed his unabashed enthusiasm for area development resulting from the airport, the Interlink and Warwick's central location and access. He said the Economic Development Corporation is marketing Warwick's assets and, even in these difficult economic times, he remains confident that the infrastructure will attract new development and jobs.
"It's time to give this a high priority," he said.
Mayor Scott Avedisian sees the difference.
"I've met more with Keith Stokes [EDC director] in the past 10 months than I have from anyone in the Economic Development Corporation in the last eight years," he said yesterday.
Speaking of Stokes, he added, "He's put people solely [exclusively] on this plan."
"Keith Stokes sees it; you can't do this in a vacuum."
Chafee's commitment comes at a point where the City Council is about to consider a master plan for the station district; the Rhode Island Airport Corporation (RIAC) is preparing to embark on a series of improvements, including the lengthening of Green's major runway, and the nascent commuter rail service from the InterLink to Providence and Boston is about to nearly double service.
While the governor did not address the master plan that envisions a multi-use transit hub combining residential, retail and office uses, he reiterated his support for a longer runway and the greater service it is presumed to bring to Rhode Island. That's an opinion not fully shared with the City Council that has until Dec. 3 to take legal action challenging the record of decision rendered by the Federal Aviation Administration (FAA) in October.
The council is slated to go into executive session Monday to discuss legal action.
After nearly a decade of suggested runway proposals, the FAA favors the plan to extend Runway 5-23 to the south from 7,166 to 8,700 feet. The extension would require the realignment of Main Avenue and the acquisition of 10 homes. Also, the plan calls for the extension of the safety areas at either end of the shorter Runway 16-34 to meet FAA standards. This project, which RIAC has made a priority, would necessitate the relocation of the Post and Airport Road intersection to the north and the alteration of about seven acres of Buckeye Brook wetlands to the east.
Several council members believe the city could gain additional concessions from RIAC with a suit, if not stop a longer runway. The administration has carefully evaluated the possibilities of winning a suit and presented them in a document provided to the council.
Avedisian questions the point of a suit.
"We've looked at the whole process [of the environmental impact study] and don't see a flaw to sue on," he said.
Chafee, who has peripherally followed the issue, said he thought Avedisian has gained quite a lot from the airport, including a commitment to relocate the Winslow Park playing fields. He also felt the city administration had been successful in scaling back the length of the longer runway. Proposals for the runway started off at 10,000 feet.
As for the MBTA service to the InterLink, Chafee joined RIAC and the State Department of Transportation in announcing Tuesday a new rail service schedule to take effect Nov. 14 increasing weekday stops from 11 to 20. There is still no weekend service.
"I am very pleased that commuter service will be expanding and there will now be even more opportunities for Rhode Islanders to take the train to work or T.F. Green Airport. This announcement is a further indication of Warwick's growing strength as a regional transportation hub," Chafee said in a statement released by his office.
Avedisian would like to bring the service a step further with a bus or trolley service running between the Providence and Warwick stations to supplement the MBTA schedule.
The expanded schedule provides for inbound to Providence and Boston's South Station weekdays at 5:05 a.m., 6:13 a.m., 6:52 a.m., 7:15 a.m., 9:23 a.m., 11:45 a.m., 3:50 p.m., 8:50 p.m. and 10:15 p.m. and inbound to Providence only at 7:20 p.m. Outbound service from Providence only is at 4:50 a.m., 5:53 a.m. and 6:25 a.m. and outbound from South Station/Providence is 8:39 a.m., 11:17 a.m., 3:16 p.m., 6:27 p.m., 7:03 p.m., 8:17 p.m. and 9:40 p.m.
Fares remain unchanged, and vary by distance. Travel between T.F. Green and Providence costs $2.25 each way. Travel between T.F. Green and Boston costs $8.25 each way. Seniors and persons with disabilities get 50 percent off. Children age 11 and younger are free when accompanied by a paying adult. Monthly passes for unlimited travel between Providence and T.F. Green cost $77. Monthly passes for unlimited travel between T.F. Green and Boston cost $265, which also includes travel on all MBTA buses and subways and the Inner Harbor Ferry.
Parking at the InterLink garage is $6.75 for the first 24 hours. Customers parking beyond 24 hours will incur an additional charge of $30 per day. The monthly commuter rate is $110 per month. To celebrate the increased service, the monthly rate will be reduced to $95 per month, effective Dec. 1, 2011. Cash and credit cards are accepted.
An extension of commuter rail service to Wickford Junction Station, close to Route 4 in North Kingstown, is expected in 2012.
Kevin Dillon, RIAC president & CEO said, "The additional train service provides enhanced connectivity for travelers looking to fly in and out of T.F. Green. The new MBTA schedule also aligns better with our flight options."
As for area development resulting from the InterLink, Dillon said Chafee "has made the station district central to goals he wants to advance." Dillon has also followed the station district master plan.
"Bill DePasquale has a vision," he said of the city planner. "I hope the city frees him up." Being more specific, he said the council "seems to have a split opinion on that."
The council is expected to review and consider the station district master plan in December.